Hummus & Tahina - love affair
Updated: Aug 1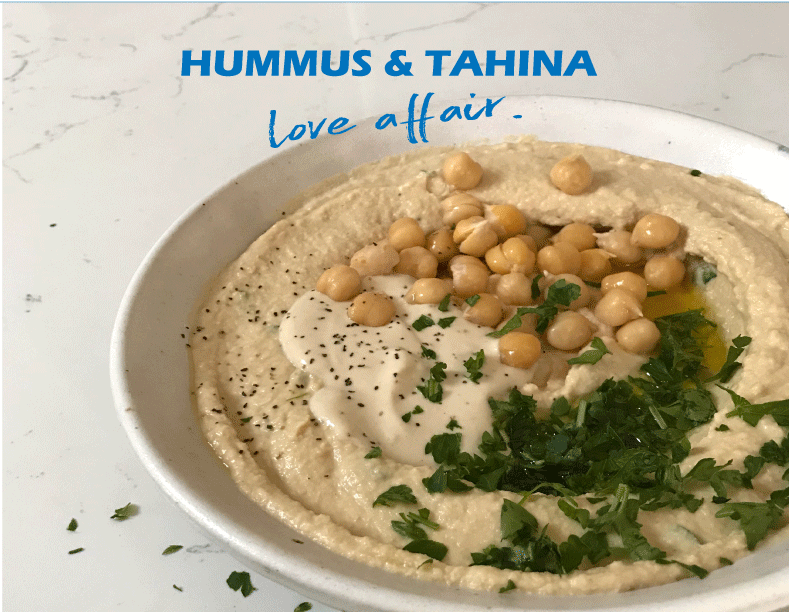 Hummus and Tahina – love affair is a series of recipes that celebrate the exceptional match between hummus and tahini. We invite you to follow us and be inspired to prepare more of these nutritious dishes in you own kitchen, using both traditional and experimental methods. Our hope is that you will fall in love (if you haven't already) with this pair, and also savor bits and pieces of history and culture throughout the way. We will share new recipes in our social media feed, and in this blog post.
BASIC HUMMUS serves 4-6
Ingredients:
1 can chickpeas/garbanzo beans (15-16 oz) , Or
Follow the instructions below if you want to use dried chickpeas (start prep a day ahead):
1 cup (200 gr) dried chickpeas (preferably small peas)
-Transfer to a large bowl and soak in cold water for 12-24 hrs.
-Drain and rinse the soaked chickpea and transfer to a large pot.
-Pour cold water to cover by at least 2 inches (about 5 cups), and add ¼ teaspoon baking soda.
-Bring to boil on high heat, reduce to medium heat and cook (uncovered) for 1.5-2 hrs, until peas are completely soft. Use a spoon to remove any scum that rises to the surface.
1/2 cup (4 Tablespoons) plain tahini

1 garlic clove, unpeeled

1/2 teaspoon kosher salt

1/3 cup fresh lemon juice (about 2 large lemons)

1/2 teaspoon ground cumin, or sweet paprika (optional)

Olive oil (for plating)

Chopped fresh parsley (optional)

For serving (optional): Pita bread, hard boiled eggs, tomato wedges, bitter olives and pickles.
Preparation:
Set aside 1- 2 Tablespoons of the cooked peas (for serving).

Remove excess cooking water (leaving some) and puree the rest of the chickpeas in a food processor or with a hand blender.

Add the tahini, garlic, lemon juice, cumin, and salt, and puree all together until smooth.

Transfer the hummus to a shallow serving bowl.

Form a crater in the center and drizzle the olive oil.

Add the reserved peas, sprinkle the chopped parsley, and dust with ground cumin or paprika.
TAHINI SAUCE serves 4-6
Ingredients:
· 1 cup (240 gr) tahini

· 3/4 cup cold water, or more for consistency

· 2 cloves garlic, minced

· 1/4 cup fresh lemon juice, or more to taste

· 1/4 teaspoon kosher salt, or more to taste

· 2 teaspoons fresh parsley, minced (optional)
Preparation:
Mix tahini paste, garlic, salt, lemon juice in a bowl, add the water slowly until it reaches the preferred consistency.

If using tahini to top meat or veggie dish, keep it thick and creamy. As a condiment for pita or falafel, a more liquid sauce is usually preferred. Taste often during the blending process; add more lemon juice or salt, if desired.
SWEET POTATO HUMMUS WITH BLACK OLIVE TAPENADE AND ZA'ATAR SPICE
Peel 4 medium sweet potatoes and cut into 1" chunks. Toss it in olive oil and roast in hot oven (400-degree F) until tender. Remove, let it cool, and then bled it with the cooked chickpeas (following our Basic Hummus recipe). Transfer to a shallow serving bowl, form a crater in the center and add a generous scoop of black olive tapenade to the crater, drizzle olive oil and sprinkle za'atar spice. Serve with warm pitta bread.
HUMMUS WAFFLE WITH CHOPPED SALAD AND TAHINI SAUCE
In a small bowl mix 1/2 cup chickpeas (garbanzo beans) flour with 1/2 cup water, 1/2 tsp parsley, and 1/4 tsp of each of the following: garlic powder, kosher salt and pepper. Grease a waffle maker (or a small frying pan) with olive oil and scoop the batter onto the pan. Cook for 2-3 minutes until both sides color is light golden brown. Serve with chopped salad and liquid-y tahini sauce. ( see recipe for tahini sauce above).
CAULIFLOWER HUMMUS WITH FRESH WATERCRESS AND ROASTED HAZELNUTS
Toss florets from 1/2 cauliflower in olive oil, salt and pepper, and roast it in the oven (420 F ) until golden brown and crispy. While it's roasting, start to prepare basic hummus (recipe above), using a large enough bowl to accommodate the roasted cauliflower. When cauliflower is ready, add it into the hummus bowl and puree mixture. Garnish with peppery chopped watercress and roasted hazelnuts.
KALE, SPINACH AND CHICKPEAS FLOUR LATKES WITH TURMERIC TAHINI DRESSING (8 Latkes). In a bowl mix 1/2 cup garbanzo beans (chickpeas) flour with 2/3 cup water, 1/4 tsp salt and several twisted of pepper. Add about 2 cups of chopped kale and spinach (frozen or fresh) to the bowl, and mix thoroughly. Fill a large nonstick skillet with olive oil and heat over medium heat. Pour a generous tablespoon of the mixture into the skillet and press it into a flat patty, fry until the latkes are crunchy and slightly browned, about 4 mins on each side. Serve with yellow tahini sauce - follow the tahini recipe above and add in 1 Tablespoon of turmeric or more to taste.